I picked up a couple of versions of this roast chicken from David Herbert's columns in The Weekend Australian Magazine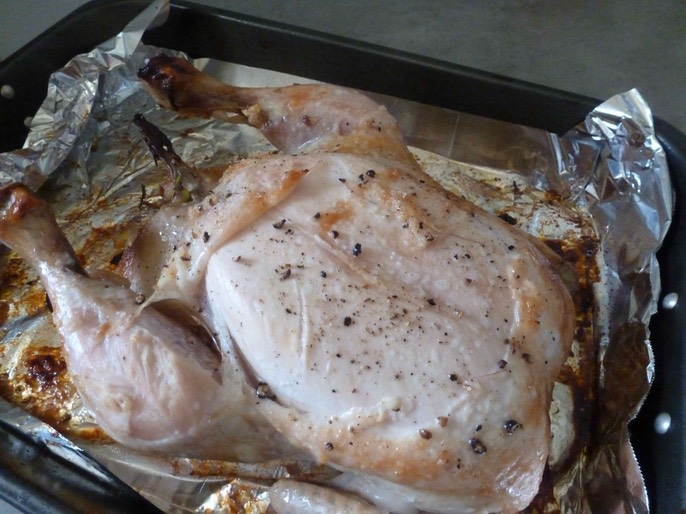 . The secret apparently lies in resting the chicken on its breast and leaving it breast-side down for most of the cooking time. 
INGREDIENTS:
A large hormone-free chicken
1 lemon or lime, halved
1 or more cloves of unpeeled garlic
Sprigs of rosemary
A couple of bacon rashers (depending on size)
Olive oil
METHOD: Preheat oven to 180C. 
Rinse chicken and pat it dry with kitchen paper, then place it in a baking tin or casserole and squeeze the juice of half the lemon or lime over the bird. Place the other half inside the cavity, with the garlic and rosemary. Cover breast of chicken with the bacon rashers, and drizzle a little olive oil over the legs and thighs.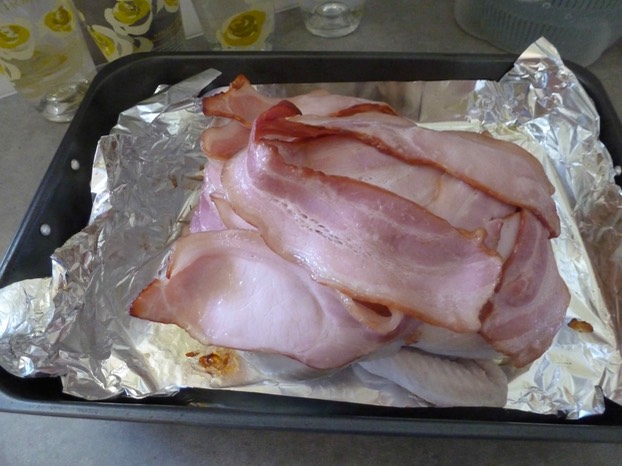 Place the casserole in the oven and roast for 15 minutes, lift off bacon and set aside. 
Bring the oven temperature back to 180C, turn the chicken over so that it's breast-side down, return to oven and roast another 50 minutes.
Increase heat to 200C and turn chicken again (it should now be breast-side up). Remove string.
Season breast with salt and pepper, then return to oven and roast a further 10-15 minutes, or until nicely golden. Check if chicken is cooked by piercing the flesh between the thigh and leg - if juices run clear, it's ready.
 Transfer chicken to a warm dish. breast-side down, and leave to rest in a warm place for 30 minutes (yes, 30 minutes) white you make a gravy, if you can be bothered, and cook and finish off any vegetables. Return bacon to oven for 5-10 minutes to crisp before serving with chicken. When you carve the bird, juices will pool on the platter. As you slice the breast meat, dip it into the juices before serving. 
Serves 4-6