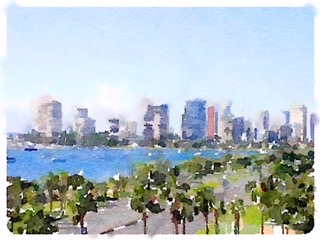 Eight-thirty the following morning found the two of us tucking into the Big Breakfast (Yours Truly) and Eggs Benedict ('Er Indoors) at the cafe down the street from the unit. 
That timing meant we could hot foot it back to base for Insiders on ABC1 (had to get the latest on the forthcoming Presidential election) and the 10:30 variant Offsiders where important financial matters would be under consideration.
Every four years on the first Tuesday in November the world watches while citizens of the United States bring a long, expensive process of elimination to a conclusion. 
Every year, most of Australia's population spend the first Tuesday in November watching the outcome of a long, expensive process of elimination which sends a field of twenty-four racehorses out around a figure nine in reverse around Flemington race course in the Melbourne Cup.
I was a sporadic watcher of Offsiders until a chance encounter with their Cup preview yielded the trifecta in 2005.  
Following discussion on the program, I concluded that while many people like Pop Rock, in my own opinion Delta Blues Maybe Better and that combination boxed in the trifecta returned $1100 thank you very much.
A sizeable chunk of the proceeds was invested in the wine fridge, but I suspect an annual investment of $30 for a box four trifecta and the same horses in the quinella means, for my remaining lifespan, Hughesy's once a year punt will be carried out using their money.
And, yes, I do realise that an $1100 trifecta doesn't go anywhere near replacing the departed dosh from a mostly disastrous twenty years on the punt up to Anzac Day 1995.