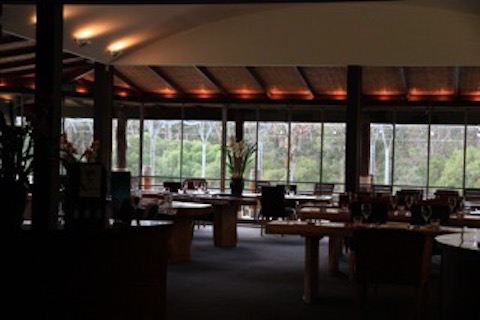 Fortunately, as I discovered when I made my way into the Cellar Door, the occupants were on a tour of the winery. 
But the tasting area had a lengthy bar that could handle a tour group plus unassociated tasters and the woman running the operation could maintain separate ongoing conversations.
One such conversation apprised me of a Museum Release of Art Series Riesling, a favourite non-Clare/Eden Valley style at the very reasonable freight free price of $242. 
Remembering the current vintage (2008) was going for that price, a dozen with couples of the 2008 and the previous five vintages was close to a foregone conclusion. It was an ideal way to build up stocks of bottle-aged Riesling. 
The tasting started with a sparkling Brut Pinot Noir Chardonnay (4/5, $33 or $181.50/6), a quite acceptable nicely yeasty drop in a style that doesn't turn up too often in Margaret River. 
Then we moved to Art Series territory with the Riesling (4.5/5 $22 $242/dozen) lighter on the citrus and minerality than the South Australian equivalents, but quite excellent. 
The 2009 Siblings Sauvignon Blanc Semillon (4/5, $23 $252/dozen) was one of the best expressions of the blend I tried in the region. 
Meanwhile, the unbelievably good 2009 Art Series Sauvignon Blanc (5/5 $30 $330/dozen) had me shaking my head at the continuing cut-price Kiwi Savalanche. Halliday gave it 96 points and described it as an exceptionally fine and elegant rendition of Sauvignon blanc).