Despite those prospects we still set out on a Friday morning without anything more than a meal stop somewhere and a side excursion to Killarney on the itinerary.
Our previous visit to Stanthorpe we'd overnighted at Mount Tambourine and while we knew the road repeating the journey would have involved a lengthy detour over ground we'd already explored. Better, we thought, inspecting the maps in the ubiquitous street guide, to go through Nerang and Canungra. 
The route was considerably shorter, and the street map suggested it also involved considerably fewer twists and turns.
Which was more or less the way things turned out. Having headed out to the Motorway along Smith Street, the next exit took us into Nerang, and navigating onto the road we wanted was an absolutely straightforward exercise.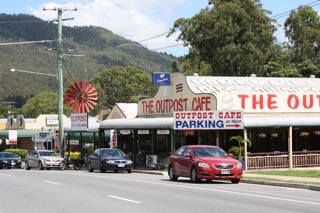 A brief photo opportunity stop in Canungra suggested somewhere that was worth another visit, though subsequent experience suggests that you're better off staying away on weekends (see below).
Back on the road we found ourselves behind a horse float containing what could well have been a couple of Shetland ponies, and when the horse float came up behind a rather slow-moving truck it was a case of advising Houston that there were difficulties ahead.
The road between Beaudesert and Boonah had its share of twists and turns and overtaking a single vehicle can be difficult. Overtaking two where the lead vehicle is a semi carrying a piece if earth-moving equivalent on an articulated trailer becomes almost impossible.
Madam made the observation that, if the truck appeared to be going in the direction we intended to pursue, an intermission in Boonah was indicated at about the same time I noticed a sign advising that there was a winery and lavender farm somewhere in the vicinity and it was a case of turning left at the roundabout.
The suggestion was duly taken on board, and as the semi looked to be heading straight through the roundabout we found ourselves veering to the left. 
Given the sudden nature of the decision to turn off I failed to note whether the roundabout featured indications that this was the correct turn off to Kooroomba, and there were very few indications we'd made the right call for several kilometres.