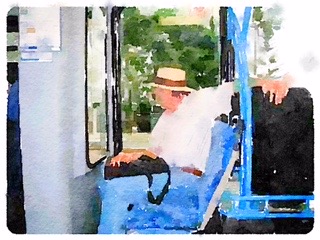 The attempt to fool Hughesy's body clock was unsuccessful, and despite attempts to roll over and resume slumber by six I was out of bed and working on the first instalment of the current narrative.
Those efforts were interrupted by Madam's arrival in the living room and instructions that sent me off on errands which filled in the waiting time in a manner which mere slumber would never have been able to match.
Having scanned the options to get us to Coolangatta Airport, we ended up choosing the 700 bus to Tweed Heads, alighted at the airport turnoff and, after a few minutes of slight confusion, caught the shuttle that operates between the highway and the terminal.
Confusion can be attributed to the fact that the last time we flew out of Coolangatta in December 2006 check in closed before the shuttle started. 
So we had to hoof it through occasional drizzle over 715 metres from the bus stop to the terminal. 
The trauma associated with that incident can be judged by the fact that I had blotted the whole affair out of my memory. 
I'd forgotten both the existence of the shuttle bus and the extreme ordinariness of the interior of Coolangatta Airport's domestic terminal.