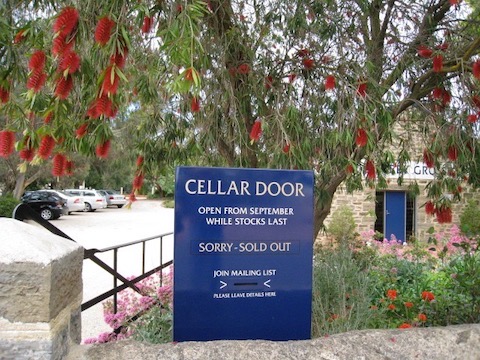 Of the two wineries located in the town, Grosset (according to my iPod notes, Australia's leading Riesling maker) opens for approximately six weeks from early September until stocks are sold out.
I figure it's eight or nine weeks from early September to Cup Day, so it wasn't surprising to find the sign at the entrance suggesting we'd better come back in ten months if we wanted a taste. 
Still, it was worth going for a look. 
I was hoping that somewhere along the road we'd run across one of the wines at an eatery and, with a bit of luck, it'd be available by the glass.
I knew that the other winery in town (Mount Horrocks) was only open on weekends, but there's a cafe in the old Auburn railway station which I thought might just be open on Cup Day (wrong!) 
Anyway, it lay on our way back to the centre of town, where we expected to find lunch.