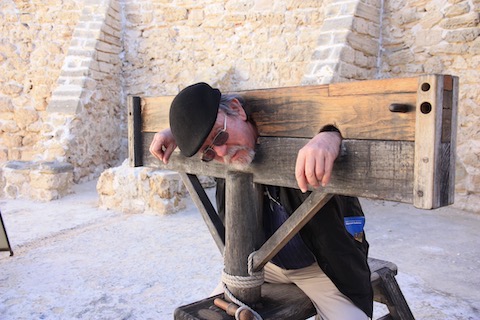 I've remarked elsewhere about Madam's uncanny ability to find accommodation that's convenient to our next day's plans. As previously noted, the rate we paid at the Travelodge was more than we'd be looking at usually. Admittedly it was probably a better room than we'd get for what we pay normally. 
So it probably comes as no surprise to learn that Thursday morning saw us, once we'd showered and packed, checking out and setting off for new accommodation. 
The game plan, as far as I was concerned, involved relocation, a look around the CBD on one of the C.A.T. services, and a wander through the far end of Hay Street. 
Hopefully I'd get a chance to stumble across what was, according to reliable sources, an excellent CD store (78 Records). 
Around eleven-thirty, we could make our way to the station, catch a train to Fremantle, grab some fish and chips for lunch, and then spend the afternoon wandering around the Maritime Museum and various historic buildings. 
That plan lasted about fifty metres once we'd made our way through the front door of the Travelodge and were heading east along Hay Street. I heard a cry of anguish and turned to find the sole and the upper of Madam's left shoe had parted company.