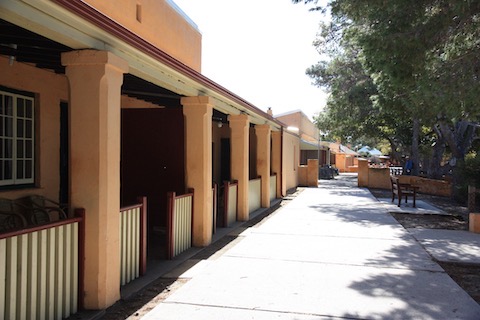 Lunch, when we arrived, proved to be a reasonable and quite substantial take on the all you can eat buffet arrangement. There was sliced turkey, pasta with a Bolognese-style sauce, and a curry and rice option. 
From there, it continued through the usual suspects. What one of the doyens of Australian cooking made of it I didn't know and was polite enough not to ask.
Plates full, we opted to sit in the courtyard under an increasingly sunny blue sky. 
The arrival of tourists bearing plates brought several seagulls, obviously well-versed in the opportunities for a free feed. 
One dared to snaffle a chip off Madam's plate. 
Another was loitering with evident intent. 
I caught it with a baleful beady eye and, in a stern voice as I indicated the carved turkey breast which formed the base of the mountain of food, remarked, This is your cousin! 
A startled squawk suggested that the message had hit home.