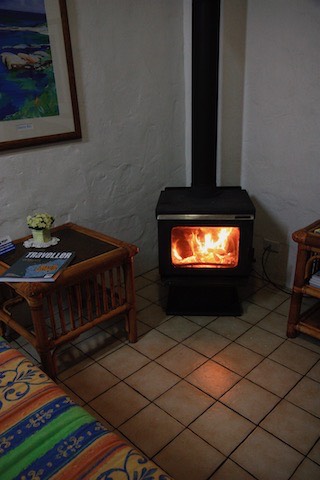 With that initial research carried out, we returned to the chalet to consider the options and relax a bit before Madam headed beach-wards to catch the sunset shutter action. 
At the same time, Hughesy relentlessly continued the attempt to catch up on the Travelogue backlog. 
Once night had fallen, it was off to the Asian for a pad thai and a green beef curry. 
Neither was a match for the Petit Verdot, but the wine wasn't meant to go with dinner in the first place.
With dinner demolished, it was time to set the fire. 
That was a straightforward task thanks to a generous supply of kindling in the metal bin on the verandah. 
By the time the wine had a good breathe I was throwing slabs of hardwood on the fire, luxuriating in the radiant warmth, sipping a hearty red and reflecting that there are worse ways to spend a chilly Tuesday night.