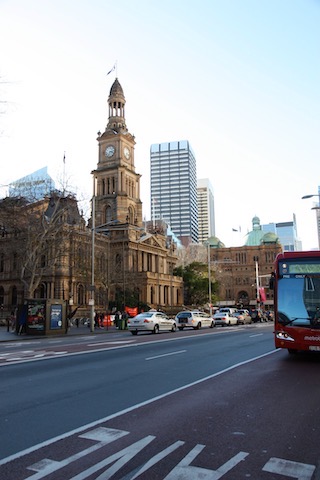 A lesser man would have kept tasting and eventually weakened. But having dropped out of The Wine Society Regular Tasting Dozen so that I could keep buying from small wineries, I decided discretion was the better part of Valerie. I used the queue that was forming at Gate 22 as an excuse to make my escape. 
Having given thought to us stratagems to adopt in future, I'll be better prepared next time. That assumes we get to fly full fare again in the next year or two at a time when they're doing a similar promotion. 
Brisbane > Sydney on a larger aircraft provided a space differential even Hughesy could notice. 
A request for red wine (at the regulation $6) produced a Mount Langhi Ghiran Shiraz rather than the usually ubiquitous Wolf Blass or Jacobs Creek. Another tick for the full fare operator.
Unfamiliarity with the transit arrangements between Sydney Airport meant we expected to take the train and scoped out the station en route to the baggage carousel. 
Having collected the goods and chattels, we were passing the Airport Shuttle booth when an inquiry produced the news that the $14 shuttle bus would drop us at the hotel. 
No brainer.