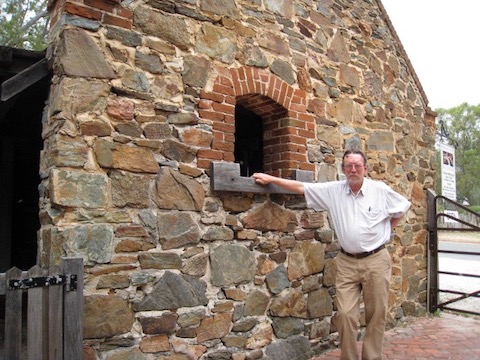 The 2008 White Frontignac ($15.50) had a touch of sweetness without being cloying, much like the Gewurztraminers we'd tried in Clare, and was another wine that would go well with spicier dishes.
Moving on to the red side of things, the 2008 Alicante Bouchet is a lovely light summer red, an almost ideal Rose style without any sweetness. One to chill and chill out over while nibbling on a Christmas/New Year lunch. One of my first acts on returning home was to order a case. 
The 2004 Moppa Springs (47% Grenache, 40% Mataro 13% Shiraz $23.50) was nicely complex with a fantastic rounded mouth-feel and a joy to swirl slowly around the palate. One to savour.
The 2005 Rod & Spur ($29.50), named for the traditional pruning method, was a huge wine that took absolutely no prisoners but was surprisingly mild for its size. 
The 2005 Rifle Range Cabernet Sauvignon was another big, full-bodied style with real Cabernet character, enormous and earthy but still mild with it. Fantastic.
It isn't usually available for tasting, but there was an opened bottle of the 2001 Shiraz VP ($62.50), so we had a chance to try a stunning wine that should last for years. One to buy and lay down for a 50th birthday (assuming you have offspring born in 2001) or, maybe those of us born in '51 might think about laying one down if we're confident of making it to the century mark.