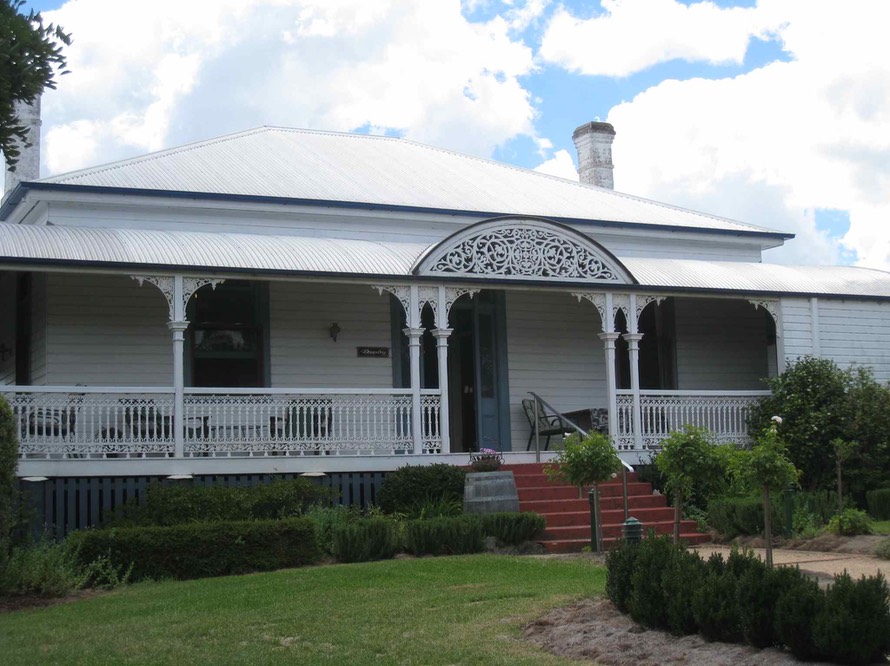 Established in 1997, Whiskey Gully combines vineyard, cellar door, restaurant, accommodation and is currently on the market for around $1.7M since the owners are thinking of following their daughter's footsteps and heading to France for a lengthy stay.
This was about the first thing we learned about the business from the daughter, who was looking after things while Mum was off on a jaunt somewhere. Apparently it had been a big night, though you wouldn't have known it from the hostess' demeanour if you hadn't been told.
The walls of the restaurant are home to an impressive display of guitars, including a dobro, a National steel-bodied, and an imitation of one of Clapton's axes that the owner had had to build himself since Eric's was a custom made job.
Granty, having declared himself the designated driver, split his time between axe-inspection and the free-flowing conversation in the tasting area while the rest of us set about having a taste as Emma kept us entertained.
There's a strong political flavour to the reds on offer - Rep Red, Black Rod Shiraz, Upper House Cabernet Sauvignon, for example - and the wines aren't too shabby at all. In some circumstances you'd look at this sort of labelling and suspect that it's being used to mask the odd shortcoming in the wines, but everything I sampled was very good indeed. 
Apart from the Upper House Cabernet and Black Rod Shiraz I ended up taking with me, I was particularly taken by the Rep Red, a Cabernet Shiraz blend that was labelled Republic Red until someone pointed out that 'Republic' was now a trademark and consequently unable to be used.
Under other circumstances and more than four-and-a-bit hours' sleep I'd be much more lyrical about what I'd sampled, since the wines were at the very least comparable to what I'd sampled the day before, but I dutifully filled out the form to add myself to their mailing list and look forward to sampling the range at my leisure in the Little House of Concrete.