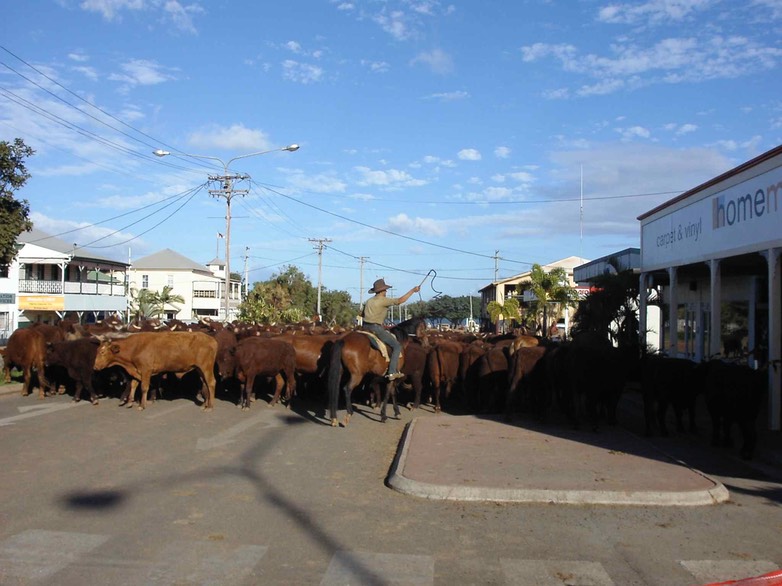 As previously intimated, the filming has brought all sorts of people out of the woodwork, and on Wednesday afternoon I got an interesting perspective on the Pamplona thing, as well as a few other issues, from the guy who used to run the newsagency closest to the movie set. 
He'd been anticipating problems as the herd went round the block, and suggested that the lack of any serious incident was due to the number of times the herd had gone around. And from his comments I gathered he'd had a bit to do with mustering somewhere along the way. Observations like Some people only muster every year or two, but we found that things went a lot smoother if we mustered every six months or so tend to indicate some degree of experience.
Departing from the Grand View with a couple of schooners under the belt, I had to move a bit more quickly than I would have preferred as the herd came round the corner to have another go at the sequence that was being filmed.
As the herd moved into position, there were several spectators taking advantage of their relative proximity to the cattle to take a few photos. I suspect that they were a little too close to the herd for someone's comfort because suddenly Mr Jackman appeared, heading towards the crowd outside the Westpac bank, and prompting a change of focus for the aforementioned photographers.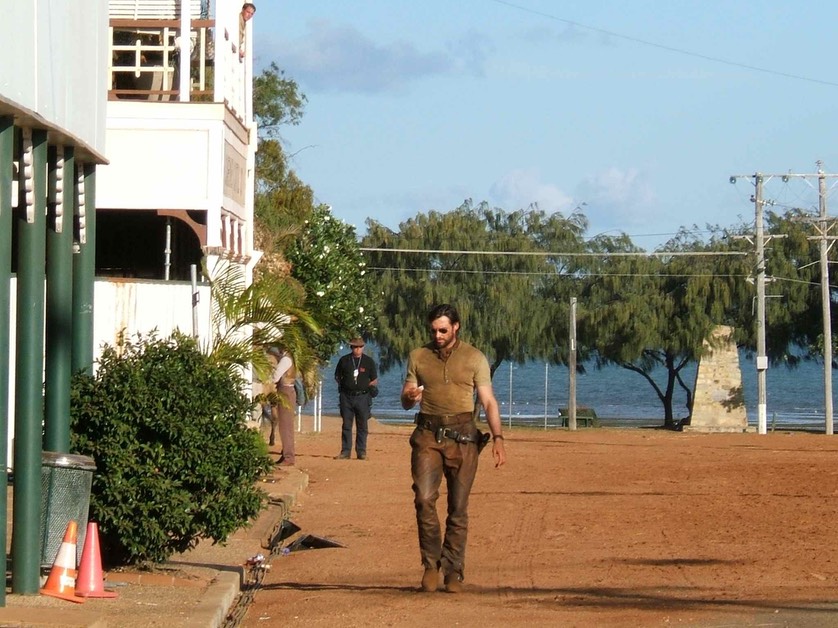 There you go: The celebrity as decoy....
Once Hugh had disappeared and the excitement had subsided slightly, I was able to catch up with one of my fellow Volunteers who would prefer to remain anonymous, so I'll just say that I've known this particular lady for twenty years and her son captained one of my school cricket teams. 
If you've known someone for that long, you've probably seen them in any number of moods, but I don't recall anyone being quite as excited as someone was on Wednesday afternoon.
It probably had something to do with the fact that Hugh apparently made a beeline for the nearest person wearing a Volunteer shirt (and guess who that was? he asked rhetorically) and then used her pen to sign a number of autographs.