The basic plan was to start at Jim Barry, pop into Neagles Rock, and then side-track across the highway to the Quarry Hill lookout and some photos (but no tasting) at historic Sevenhill Cellars. 
From there we planned to head around the Spring Gully Loop to Skillogalee for lunch, then on to Mitchell, Kilikanoon, Olssen and (maybe) Crabtree on the way home.
 Ambitious? Yes, but I thought it was doable with an early start if we were able to space the tasting and slip Mitchell (and maybe Kilikanoon) in before Skillogalee and lunch.
We weren't out of the blocks as quickly as I would have liked.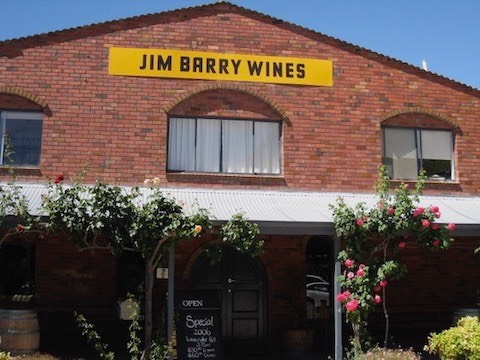 It was around ten when we pulled into Jim Barry, behind a foursome from Brisbane who had some connection to the winery's Queensland distributor and were there for a long and leisurely tasting. 
With two groups of tasters and a couple of outside interruptions, we were there quite a bit longer than I'd planned. 
That combination of factors produced much more copious tasting notes than I was able to manage elsewhere. Starting with Riesling, the 2008 Watervale ($15) was another in the run of fantastic wines that are the valley's trademark.