Which is more or less the way it turned out. As we pulled into the supermarket car park on Friday afternoon the security fences were gone and there was nothing to suggest that the area had ever been anything other than a typical Bowen street, a touch on the wide side, but otherwise unremarkable. The area they'd been using for costumes and makeup still had tents in evidence, but today the fences had gone from there as well, so I guess the tents won't be far behind them...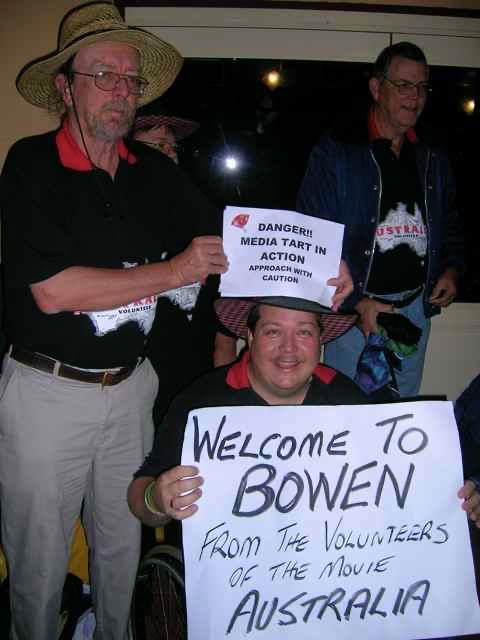 We had our final flare of media coverage last Tuesday when a crew from Channel 7's Sunrise program were in town and filming the crosses to the weather reporter. That's her standing beside Warbo in the photo....
The event also provided a chance to pay out once again on Resident Media Tart. And if Yours Truly looks somewhat less than totally gruntled, it's worth bearing in mind that the footpath outside the Grand View is not the most desirable place to be at five-thirty on a cold wet Tuesday morning....
And as they crossed back for another weather segment every half hour or so the crowd grew, completely regardless of the prevailing meteorological conditions.
History of insanity in the family? What history of insanity?
Personally, once Wednesday's Volunteer stint was finished, I would have been quite happy to have stayed home where it was relatively warm, but the prospect of action on the set provided the opportunity to join the Warbys for a drink in the Grand View while we watched the preparations for the final night shoot through the windows of the pub...
And we were back there on Friday for the Volunteer get-together. Officially we were there to say good-bye to Location Manager Mary but there would also, we were told, be an opportunity to sing some of the Volunteer songs that had been submitted for consideration.
Way back before the start of filming we'd been told that a Volunteer song set to the tune of She'll Be Coming 'Round The Mountain was needed, but no one got around to explaining why.
After some prompting from Warbo, I'd submitted one, though what it was actually going to be used for remained a mystery. I'd finished one version of it back in about Week Two, thanks to a long session with an online rhyming dictionary, but when I went back to it last week, I decided that I could do better, so a revised version went in...
And, apparently, the revised version won. At this point it's not exactly clear what winning involves, but it won so I guess I can count that as part of my fifteen minutes of fame....