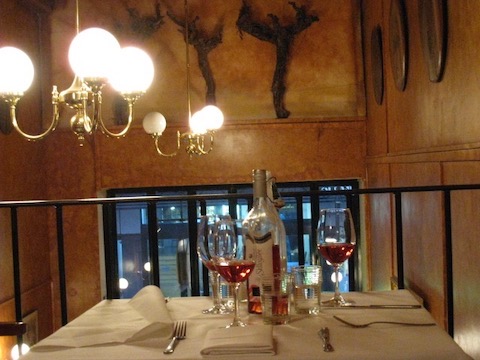 A phone call advised us the planned dining arrangements were a late scratching, so we wandered off around six looking for an interesting option in the Hindley Street end of town. 
We settled on Le Corner Bistrot, managing to grab the last available table in a classy establishment offering French cuisine in the classic style.
I opted for one of the daily specials, a mushroom vol au vent, and an entrecote and green pepper sauce, while Madam went for a main course of ocean trout. 
When the vol au vent appeared I was surprised to find the pastry layered over and under the mushroom filling rather than encasing it.
But it tasted superb, and the sauce gave us something to talk about while we waited for the mains to arrive.
That took some time since the place had filled since our arrival and the kitchen wasn't exactly the most spacious one you've seen.  The mains were, however, well worth the wait. 
We wandered room-wards pleasantly sated with Iron Chef, Rockwiz and Crabtree Tempranillo to look forward to.