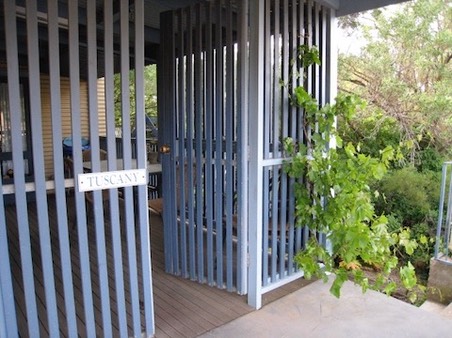 An early night was, as it turned out, the smart option. 
Through the night, the wind picked up, not enough to disturb the slumber at first, but in the predawn hours as the wind howled and the rain swept across in scuds of varying intensity a warm bed was the place to be.
Somewhere around two, the wind dropped, and the thunder moved in, eerie in the silence and threatening enough to make a return to sleep a difficult proposition. 
But with several hours of sleep already under the belt, lying half-awake listening to the rolls of thunder gave me a chance to think back over the previous couple of days.
Madam's research activities had, once again, paid off. 
She looked at a number of possibilities before booking us into one of the cottages that operate under the name of Lavender Blue. There are two cottages on site, one (Tuscany) occupying the upper level of the premises while the second (Provence) is tucked away on the lower level of the 130-year old building on the northern outskirts of Auburn.