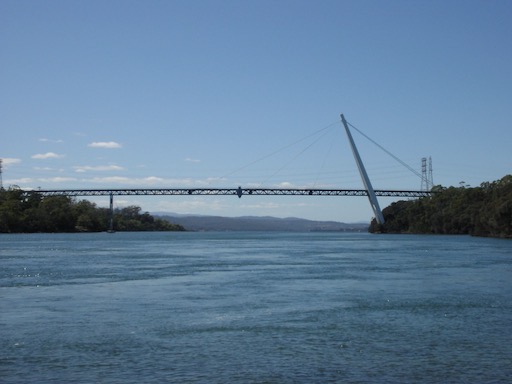 The southbound journey didn't seem quite as spectacular as the northern leg. I suspect that the fact we knew more or less what lay in store might have been a contributory factor in that.
On the way north, we'd stopped briefly at the Artisan Gallery & Wine Centre. 
A handcrafted timber wine rack caught the eye (it's a pity we don't have room for it in The Little House of Concrete). 
From there we turned off onto a track that took us under the Batman Bridge, past a stone convict-built Presbyterian church and on to Holm Oak Vineyards. 
I weakened and shelled out for a dozen of the 2005 Riesling (Halliday rating 94). 
After lunch, since we still had time to kill before check-in opened, we headed past the airport back to Evandale for a final wander around historic buildings before we departed.