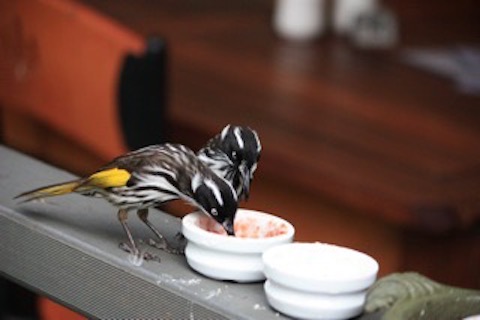 Lunch beckoned, and given the fact that I needed a break from the tasting bit, we decided to try The Berry Farm, which turned out to be just the ticket on the tucker front. 
At the same time, Madam caught plenty of shutter action with the abundant birdlife. 
After lunch, we diverted to Chalice Bridge, which I'd neglected to note was open by appointment. 
Our arrival was greeted by a large and extremely aggressive dog which ruled out investigation of the area just in case. 
That meant we made our way back to Rockfield, which was pleasant without hitting the stellar heights I'd experienced earlier in the day. Lack of scribbled notes makes further comment impossible.
From there, we took a drive out to the surf before making our way back to Cape Mentelle, where the palate tiredness kicked in big time. 
That's not to belittle the wines, which I thought rated very highly, particularly on the white side of the ledger. It's a place I probably need to go back to at the start of the day.