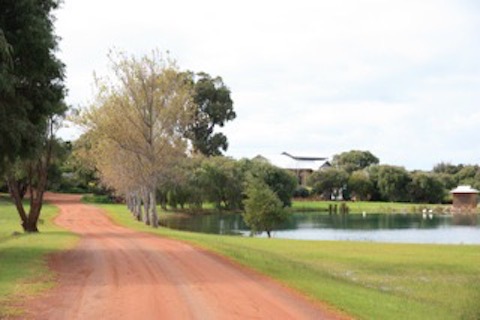 Lenton Brae Dude was another out of the same mould. 
A delightful forty minutes culminated in a recommendation we visit Woodlands (just across the road) because the reds are excellent. 
You'll like them. 
We didn't get anything from Lenton Brae straight away, but the website will be getting repeated visits over the next couple of years.
I started with the 2010 Semillon Sauvignon Blanc (4.5/5 $22), the blend that is to Margaret River what Riesling is to Clare. Everybody makes one, and they're rarely less than excellent. This one was firmly wedged into the upper end of the echelon, and the varietal character integrated very nicely indeed. Definitely one to throw into an order.
The 2010 Sauvignon Blanc (4/5 $22) wasn't quite up there. Still, I rated it relatively high, along with the 2009 Southside Chardonnay (4/5 $25) the early release style, a tangy minimal-oak number that worked very well. It'll be seven or eight months before the regular Chardonnay hits the shelves. Still, these three definitely look like classy summer drinking as far as Hughesy's concerned.
There were also a couple of Late Harvest styles ($18) that were interesting with the 2010 Special Late Harvest, a blend of Semillon and Sauvignon Blanc working very nicely indeed. Definitely one to go with the curries.
The reds were, on the other hand, light on numerically, but the two I tried impressed greatly. 
The 2010 No Way Rose (4.5/5 $18), a bone dry style that works stunningly well, could be described as summer in a glass and is one to throw into the LHoC summer mix. I was also reasonably taken by the 2009 Cabernet Merlot (4/5 $25), a softer, drink now style and definitely one to look at for summer.