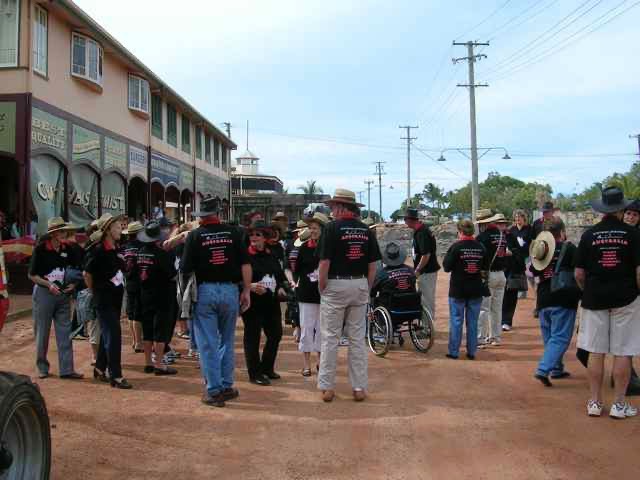 Of course, if the opportunity presents itself, it's possible to go a little further. As we moved away from Media Tart Central on Sunday afternoon, Warbo recounted his encounter with Hugh Jackman at the gym. An observation that Mr Jackman's personal trainer was trying to kill him was apparently met with the suggestion that he wasn't too far off succeeding...
The same way, when former Queensland Reds rugby player Steve Kefu was sighted at the Bowen State School Big Baz-aar on Saturday, there was a conspicuous lack of fuss...
And if the presence of Queensland Premier Peter Beattie in town on Sunday hadn't been preceded by a request to meet the Volunteer group he might have managed to avoid some of the media spotlight.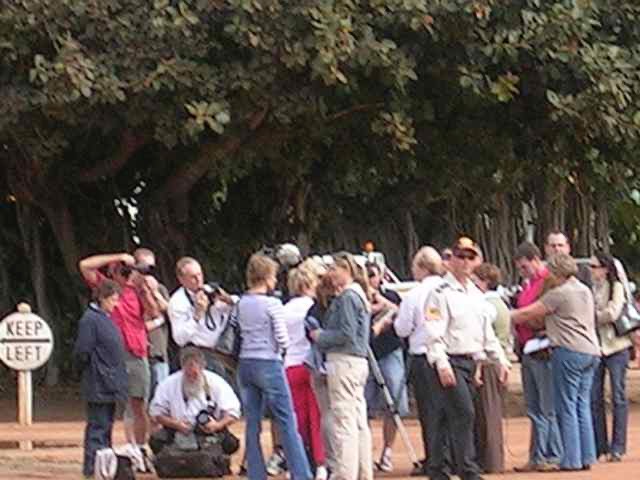 That, however, would probably have been totally out of character for a self-confessed media tart.
Unfortunately, the presence of a large number of anti-local-government amalgamation protesters at McKenna Hall meant that Mayor Brunker, who's no slouch himself when it comes to attracting the spotlight, was unable to be there when the Premier met the Volunteer group's Number One Media Tart at the inevitable photo opportunity with the Volunteer group.
As I left the Grand View after lunch Cristian explained his position in the middle of the front row with a shrug of the shoulders. Well, you heard them. They called for short people to go to the front....
Yeah, I retorted. And if we had someone else in a wheelchair we could have used the two of you to bookend the shot rather than having someone hogging the limelight again.
The shrug I received in reply seemed to suggest that such, indeed, is life...