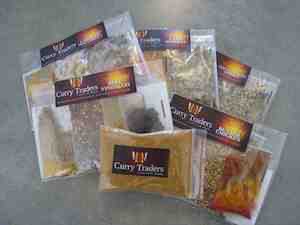 As a long-time certified lover of spicy foods, I've got to admit that I've been forced to turn to shortcuts on a regular basis.  Given the multitude of ingredients that go into spice mixes it's hard not to, unless, of course, you're time rich and living in a household where there are a number of chilli heads who'll be devouring spicy tucker on a close to daily basis.
While Ian Hemphill's Spice Notes has a recipe for Mexican Chilli Powder that has four ingredients (chilli powder, cumin seeds, sweet paprika and dried oregano) plus salt, that's still four containers that're going to end up on the shelves needing to be used up, and I have to admit that a bottle of a "premixed" blend usually ends up taking their place.
Move into the headier atmosphere of Indian cookery, and the problem multiplies, so it's no wonder people are going to be tempted by the sachets, cans and bottles you'll find in abundant proliferation in any decent supermarket. Brown some meat (and maybe an onion), add the contents of the sachet, can or jar, throw in maybe one or two other ingredients, mix and simmer and Bob's your uncle.
Understandable, but hardly a pathway to anything approximating the real thing.
A visit to the markets at the Mirage Marina in February, however, changed all that. Sighting a stall selling spice blends, I invested $8 on a Beef Vindaloo sachet, and, having returned to Bowen, tried the contents one day when Madam had decided she wouldn't be needing to sample Hughesy's culinary prowess (Madam doesn't do hot). 
She was away at tai chi while I was doing the prep, so she didn't get hit with the heady aroma that came as I opened the first couple of spice bags.
A sachet typically includes four bags of spices and seasonings, which need to be ground, dry roasted, mixed and blended in a rather lengthy and time consuming process  (more time consuming if you don't have a decent sized mortar and pestle) but the resulting Vindaloo was far superior to what I'd found in any "premixed" option and very close to what you'd find in a good Indian restaurant.