Getting to Skillogalee and lunch meant a slight bit of backtracking.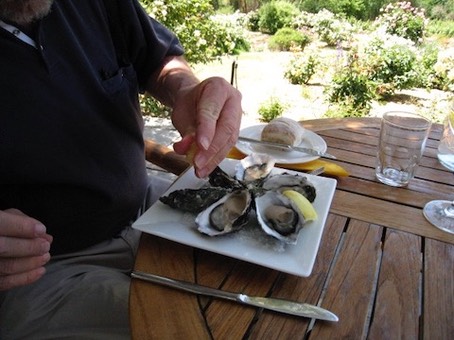 Since we were there slightly before the time we'd booked I tried some of the range. It was enough to suggest a glass of Riesling would go well with lunch. 
From the time we were seated under the olive tree, it was evident why we'd been told lunch at Skillogalee was a must do. A lovely spot. 
The views across the vines were divine, and the food was superb.
 I had half a dozen Coffin Bay oysters from the daily specials (hence the decision to go with a glass of Riesling).
Both of us went for pasta with a creamy prawn and pea sauce which couldn't possibly be faulted.
Back on the road, we headed to Kilikanoon, where I was struck by the contrast between the 2008 'Mort's Block' Riesling ($21) and it's top of the range cousin-brother.