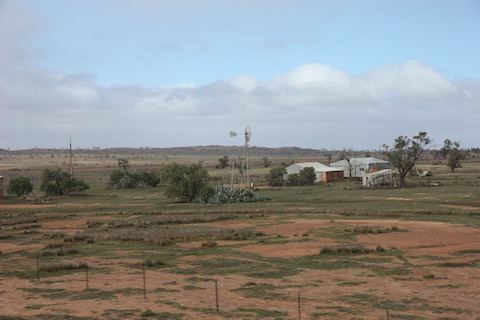 Peterborough itself marks one of three points in the area where three separate rail gauges meet. 
The first set of tracks to arrive was the railway from Port Pirie to Broken Hill. 
They were followed by a line linking Adelaide to Alice Springs by way of Quorn (the original Ghan route) both of which were narrow gauge (3 feet 6 inch) lines. 
Before the launch of the Indian-Pacific, the line from Broken Hill was converted to standard gauge (4 feet 8 1⁄2 inch), and the line south of Peterborough to Terowie to broad gauge (5 feet 3 inch). 
You apparently get the same mix of gauges at Gladstone and Port Pirie.
Peterborough must have been a thriving community back in the day but presented a bleaker aspect through the contemporary mizzle. While the weather reduced visibility to a couple of hundred metres, the landscape showed the benefits of recent rain.
The agricultural side of things became increasingly visible, with grain silos in substantial towns. 
Not substantial, as in populations running into the thousands, but somewhere more than a dozen or two in a township that boasted a roadhouse, a pub and something else.  
The rain lifted as we passed what may have been Yongala (the town that gave its name to the steamer wrecked off the North Queensland coast). From there, it's not far to Jamestown, birthplace of R. M. Williams, Sir Raphael Cilento and actor Paul Cronin.