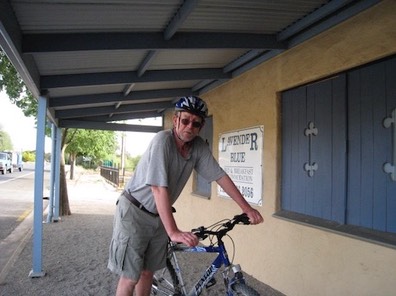 Having decided to make full use of the facilities on offer at the cottage, Madam had indulged in a sauna the evening after we arrived and I'd indicated that I wouldn't mind a ride along the Riesling Trail on one of the bikes stored in the shed at the back of the premises.
Yesterday had dawned bleak and drizzly, putting that concept into the Not this morning, Josephine basket, but a cloudless sky took care of any excuses, and I set off around 7:10, planning to ride to Leasingham and back before breakfast.
Bearing the fact that I don't recall riding a bike at any point over the past twenty-plus years and that most of the route along that section of the Riesling Trail covered a gentle uphill slope, the news that I didn't quite make it into Leasingham mightn't come as a great surprise.
I turned back when I reached the tank farm behind O'Leary Walker at the time I'd planned to start the return journey and coasted downhill for much of the way back.
After a shower and breakfast, it was back to Clare for the start of what I think is the most overwhelming day's wine tasting I've experienced to date.