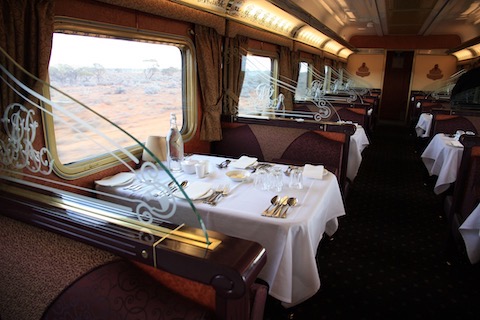 There isn't much room for variation in a cooked breakfast, and I went for the standard option, with poached rather than scrambled, eggs to go with the bacon, chipolata, mushroom and tomato. 
We were in the middle of ordering when the fog lifted, as if by magic, and we found ourselves gazing at the awesome extent of the Nullarbor in all its sparse and minimalist glory.     
The other couple at the table was a farmer from the Blue Mountains and his born to shop for shoes missus. 
He was a Sandgroper by birth and proved to be a mine of information. We learned he had made the crossing several times by both road and rail. 
His better half wasn't at her best in the morning person role, but this was new ground to her. 
So there were questions, remarks and banter across the table as we moved further into a vast unchanging landscape.
When I spotted something that could have been mountains, I was told it was probably cloud. 
There was nothing out there to the south from the track to the highway, which lies a hundred kilometres away and beyond that to the Great Australian Bight. 
Nothing. 
Not a hill, not a valley, nary a river or anything to deliver variation to a dead flat and totally even horizon. 
There was no variation on the northward side either.