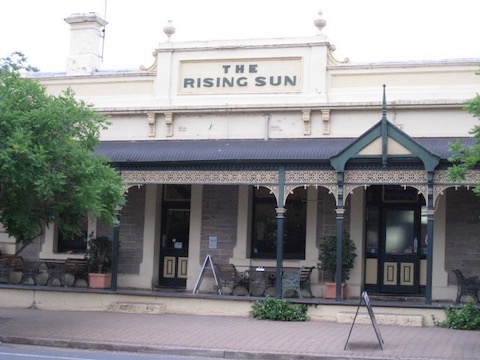 Back in downtown Auburn, we found the cafe (Cygnets at Auburn) had gone racing, so it was a case of lunch at The Rising Sun.
An insufficient perusal of the menu resulted in disappointment for Someone who forgot advice to ignore anything described as schnitzel unless you're sure that it's freshly made.
But my trio of sausages on a bed of mash with a red onion jelly filled the void nicely and provided a bed of blotting paper that would become important once tasting started.
As previously intimated, Auburn lies at the southern end of a string of townships with Clare lying at the northern extremity, so I'd planned a strategy that worked on covering the south end on the first day and going on to Clare and working south on the other two. 
One day would include the eastern side of the Main North Road with a trip through Polish Hill River to Mintaro, and on the second day, I planned to work along the western side of the highway. 
With that idea in mind, we started by heading off to Taylors which I figured would be less liable to be affected by Cup Fever.