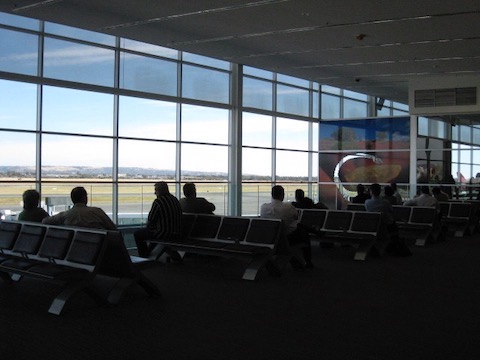 Monday's game plan, with us flying north in the afternoon, was based on opportunities for Madam to catch up with friends with Hughesy indulging in activities that would kill time. 
Those were supposed to involve wandering around bookstores and CD shops. 
But once I'd picked up a couple of titles I just had to have (the new Le Carre, a Michael Dibdin/Aurelio Zen omnibus and a new Andrea Camilleri) reluctance to spend anything beyond what was necessary saw me sitting around cooling my heels while I waited for departure time.
 If that sounds a bit extreme, the reader needs to remember that straight after I'd picked up those titles I wandered into a CD store where I could easily have spent a couple of hundred dollars filling gaps in the music collection. 
I was better off avoiding unnecessary temptation and challenging decisions.