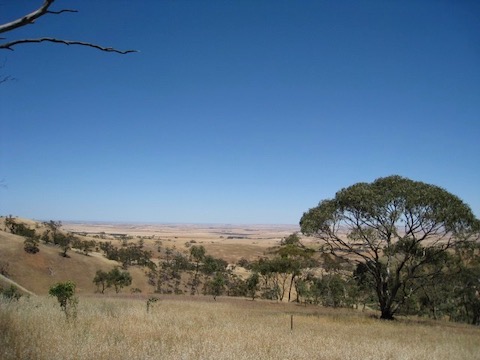 The Lookout wasn't quite what I'd been hoping for. I thought we'd be looking east across vineyards whereas we ended up looking towards where the sun would set in a few hours' time.
The time factor, after we'd spent so much longer than planned at Jim Barry (not that I'm objecting) meant it ended up as one more winery before lunch, so we headed over to the old stone apple shed that houses Mitchell Wines. 
Once we'd finished it wasn't quite time for lunch, but there wasn't time for another, particularly when the next stop was going to be Kilikanoon.
Lack of something to scribble on close at hand means I'm relying on memory to describe a relatively hurried visit to a winery where I liked everything on offer very much. 
The 2006 Watervale Riesling ($22) was another in a succession of fantastic wines. 
The 2004 GSM Grenache was excellent, with the S originating from Sangiovese rather than the usual Shiraz. 
The quality continued with the 2006 Peppertree Vineyard Shiraz ($25), 2004 Cabernet Sauvignon ($25) and the stunning 2000 McNicol Shiraz ($40).
If that seems to be giving the place short shift when I asked Madam for her impression of the place she suggested that it was probably the best winery we'd visited that day. 
When we met the foursome we'd seen at Jim Barry over lunch I was quite emphatic. They had to visit Mitchell.