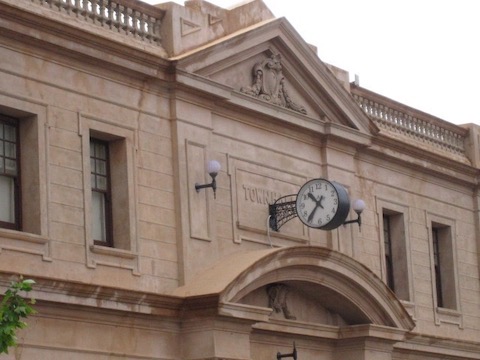 Once breakfast had been demolished the first priority for the day involved meal arrangements for the next couple of days. 
The briefing we'd received on arrival indicated supper requisites could be obtained from the highly rated Wild Saffron. 
We'd also been told that lunch at Skillogalee was a must do so once I'd succeeded in booking us in for lunch on Thursday it was a case of setting out to locate Wild Saffron to check the options for the next two days' evening meals. 
Those looked like being lasagne (highly recommended by our host) or Thai beef salad.
After a quick conference we decided to head off on the tasting trail and return after lunch (I'd pencilled in at Salt 'n' Vines), pick up dinner supplies, drop them in Auburn and then head off on a loop through Polish Hill River and Mintaro. 
Remembering we'd be flying home, the game plan was to try as many wineries as possible, add our details to the mailing lists (preferably the electronic version) and place orders once we returned to base.