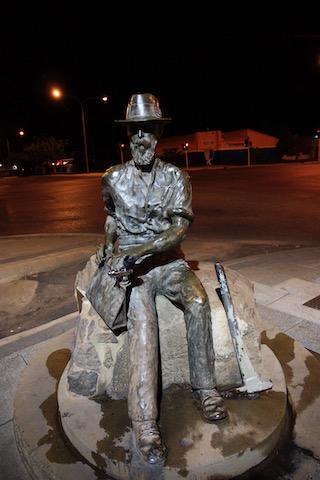 Kalgoorlie presented as a town that had done very well for itself in its heyday, and the buildings were similar in style to those we sighted in Broken Hill. 
There weren't many locals on the streets. 
While that was probably a function of the hour and Monday. Ten o'clock on a Saturday may have been different. I suspect a combination of twelve hours on, twelve hours off, and an alcohol and substance testing regime was a significant factor. 
Commemorative pavers revealed Kalgoorlie as the birthplace of Walter Lindrum, the Bradman of the billiard table, and several sporting identities. Almost all of them were totally unfamiliar names as far as the four of us were concerned. 
Given Madam's background that was hardly surprising but many of them were footballers, Gavin and Lynn were from Victoria, and we were presumably talking AFL. 
It seems football fame didn't always spread eastwards in the pre-Eagles and Dockers era.