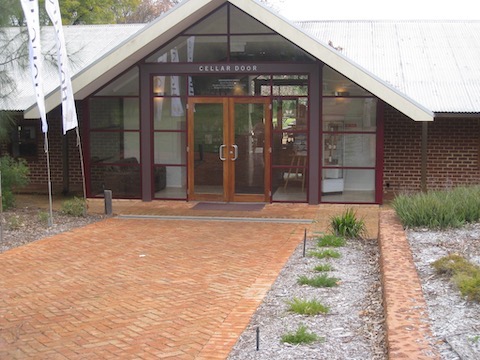 But I'd done something right. As we made our way along the downhill zigzag, since we happened to be in the right area, was I interested in visiting a winery?
I obviously don't do please don't put yourselves out well enough. Although I suggested that I'd be quite happy with lunch and maybe a tasting if time permitted, I was decanted at Sandalford, ushered into the tasting area and told to take my time.
With three people waiting nearby while you're the only one tasting, taking your time isn't easy. 
And when they're discussing dinner options, and you want to contribute to the discussion, it's difficult to devote the attention that good wines deserve to a very attractive range. 
In any case, much of what I'd tried came from Margaret River soI could remove Sandalford from the list of places I needed to visit.
Then it was on to Houghtons, where, as you'd expect going from one winery to another, the experience was substantially different. 
Sandalford had been friendly, but the girls in the tasting room, while happy to pour samples and give a comment went about their other tasks and left you to it. The young bloke in the tasting room at Houghton, on the other hand, was a salesman, and a classy operator at that. 
Inquiries about varieties, regions and styles developed into an ongoing conversation that ended up with Hughesy ordering half a dozen and placing himself on the email list. 
In the meantime, my companions strolled around the grounds and through the gallery and ended up in the Tasting Room. By the time we'd finished it was getting on for four, and the fact that we'd missed lunch was starting to tell on all concerned.