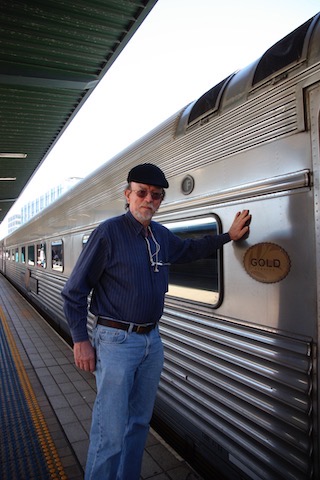 Day One going west, for example, had the Red Service at 6:00 with Blue two hours later. 
We'd gone the Blue, but as I wrote this part of the Travelogue heading out of Broken Hill, the Red Service had just been called (8:30 a.m. C.S.T.). 
Subsequent comments from people with a Red ticket suggested that staff tended to hurry you through your meal to make room for the other lot.
The first part of the run out of Sydney took us through Redfern and suburbs that presented an urban landscape much like the outskirts of any major city. 
Sydney's Summer Hill and Burswood are close to interchangeable with Brisbane's Yerongpilly and Loganlea. 
Similar examples could probably be cited for Melbourne, Adelaide and Perth.
From where we were sitting, there was nothing around the station at Homebush to indicate the area had been hosting the Olympics ten years earlier. 
However, blocks of units on the other side may well have been the Olympic Village. 
By 3:47, we were passing a rail yard at Clyde and discovering the westering sun, as it sank towards the horizon, was going to be a real headache.