All in all, a place for a long leisurely lunch over a couple of bottles of the local product rather than an opportunity for a quick meal before you get back on the bitumen.
The detour and subsequent delay along with road-works towards the top of Cunningham's Gap meant it was close to three when we arrived in Warwick, and after a quick visit to the Tourist Information centre and a photo opportunity involving a couple of buildings we were off on a side trip to Killarney. It's a pleasant drive through attractive country, though time was pressing and we didn't have a lot of time to savour the scenery.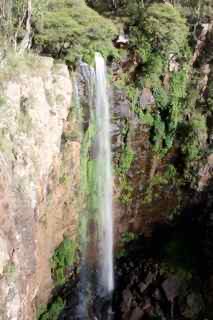 Madam's main purpose in making the diversion lay in the range behind the town, where Queen Mary Falls are very close indeed to the headwaters of the whole Murray-Darling system. The Falls themselves are an impressive sight but, again, we didn't have time to pay the surroundings the attention they deserve.
The prospect of driving west on a winding road into the afternoon sun had a lot to do with that, but we were back in Warwick turning south before it became a problem and it was just after five-thirty when we passed under the Arts Festival banner and I called Granty for directions.
Uncertainty about evening meal arrangements had been a significant factor in decisions about lunch, but a roast provided a good excuse to knock over a magnum of d'Arenberg Grenache Shiraz we'd been lugging around with us looking for a suitable excuse to open, and that came after we'd sampled a Rockford Alicante Bouchet and a Pfeiffer Gamay renewing acquaintances and making the relevant introductions.
As a result, what are described in diplomatic circles as "wide-ranging discussions" meant that it was well after Hughesy's regular bed time when I toddled off cot-wards. The ladies, sensibly, had retired much earlier, and four-and-a-bit hours' sleep probably wouldn't have been an ideal preparation to an extensive tasting session on Saturday.
Fortunately I'd been careful to do some preliminary research before we left Southport, and out of the listings in the 2009 Halliday, I'd reduced the number of places I wanted to visit to three - Boireann, the only five-star establishment in that edition, Whiskey Gully, which seemed to have a bit of character, and Symphony Hill, which was experimenting with some unusual varietals. Our visit to the Info Centre in Warwick had revealed Boireann, which operates on a stay open till everything's gone basis, wouldn't be open till Easter, so that left two.
The day's touring activities kicked off with a drive to the top of Mount Marlay, which affords a good view across the town and part of the surrounding countryside.  From that vantage point it was obvious Stanthorpe was a more extensive town than a drive along the main street, or even the street map I'd consulted for directions to Granty's had suggested. With that vista examined and explained it was a case of back to the car and away to points southward.