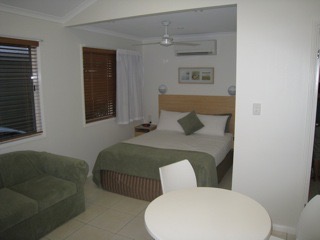 Not too bad at all is an understatement. 
Rating: Actually very good. Reasonably new too. I'm not sure how what looks like a fairly stock standard prefabricated unit will stand the ravages of time but then again time will take a toll on everything in the end. It's just a matter of when the end arrives…
Having unloaded the bags, and obtained a map and directions to the fish shop, it was time for an excursion in search of dinner.  Initial reactions when we walked into Swain's Fish and Chips were immediately favourable. Looked very new, and clean. 
That's not casting aspersions at the cleanliness of other operations of this kind, but if you've got a place that's been in use for decades you're not going to be replacing the whole interior on a regular basis, are you? 
A glance at the menu board revealed an interesting variation on what we were used to. No indication of chips 'by the scoop/half scoop'. Most options (sweetlip, prawn cutlets, oysters, for example) were 'and chips'. Looked expensive, but that's in comparison to the menu board that offers fish 'by the piece' and chips by the scoop.
Of course, the big issue is quality, and while I was placing the order for two sweetlip and chips and a skewer of garlic prawns, Madam inspected the contents of the display cabinet. The Japanese tend to know their fish, and what was on display looked good. Add a tick there, alongside those for cleanliness, and menu options though the price was a bit more than we were used to paying.
Contrary to advice, the place wasn't packed at a quarter to six on a Friday night, but even if it had been, the efficiency of the two-handed operation suggests that you wouldn't be waiting too long.
While we waited, watching the unhurried flow from display cabinet to frier to packaging was quietly reassuring. You definitely got the impression that something good was coming up from an outfit that knew what they were doing and could accomplish it without a lot of fuss. The clincher was the delivery of salt to the container, done with an airy wave that suggested a breezy confidence that the requisite amount of salt was being delivered. Other people would shake the shaker and watch how much was going on….
When you're talking customer service in Australia there's a tendency towards "This is what we do. Take or leave it." It's the attitude you detect in automated voice recognition and the plans on offer from Telstra, Austar and various other operatives. This looked more like "This is what we do because we know what we're doing".