Further up the price range in the premium wines, 2007 Shotfire Chardonnay ($20) was on the buttery side of the spectrum (the style I like), and 2007 Pinot Gris ($20) was surprisingly similar despite the fact it hadn't had the malolactic fermentation that usually leads to those characters. Interesting.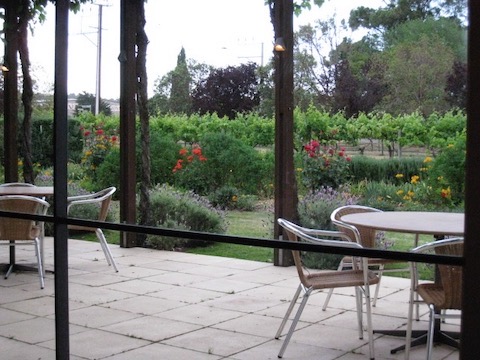 From there it was a matter of checking into the accommodation at the Vineyards Motel, an unprepossessing establishment that had the advantage of being across the road from Vintners Restaurant, the venue we'd selected for dinner, and the adjacent Saturday morning Farmers' Markets.
Dinner was an enjoyable and relaxed affair, involving the chicken and kangaroo dishes from the daily specials. 
I chose a glass of Tin Shed Cabernet Franc ($9) to go with the 'roo, though the most memorable part of the evening came after we'd started the walk home. 
The walk quickly became a run as we crossed Stockwell Road, pursued by rain that had been threatening to do something more than drizzle all day and had waited till we were on foot in the open to do so.