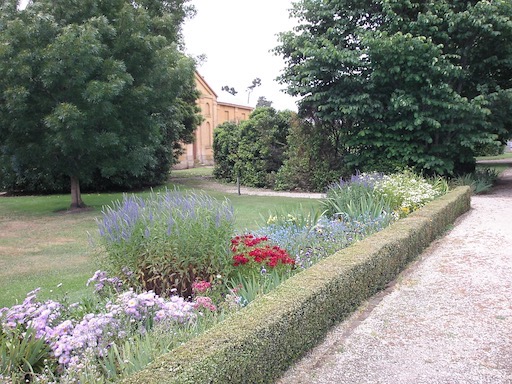 With lunch out of the way we headed northwards and decided not to worry about the bridge at Campbell Town. 
Someone wanted to check out the National Rose Garden, located on the banks of the Macquarie River at Woolmers Estate  in Longford.
A quick check of the options persuaded us to try the self-guided tour of the grounds. 
In addition to the Rose Garden and the traditional Kitchen Garden, it takes in the working horse stables, blacksmith shop, a shearing shed, cider house and the coach house. 
The Rose Garden covers two hectares and traces the evolution of the rose, from the 18th and 19th centuries to the present. 
While I've got to admit roses don't do a great deal for me, any possibility of boredom was more than negated by the stroll around the historic buildings. 
Again, just magnificent and a fourth highlight.