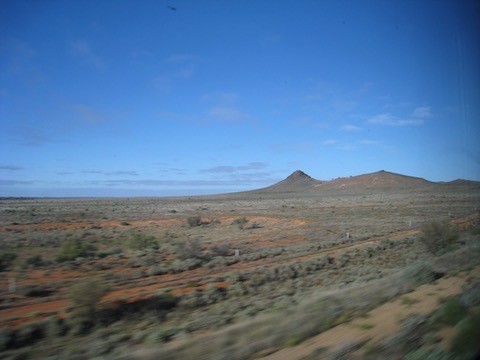 There weren't many obvious places where the train would be stationary for any length of time after Adelaide apart from Cook. 
The primary purpose of the halt there is to replenish the water supply at the cost of up to $2/litre!
Once we were moving again, the route took us across an ancient dry landscape covered with salt-bush. It was populated by the odd pocket of sheep, the occasional emu and, more than likely the obligatory kangaroo, though I didn't manage to spot one over the entire crossing. 
Still, it's hard to keep an eagle eye on the landscape and scribble notes at the same time.
After Yunta, a surprisingly large settlement two hours out of Broken Hill the country started to improve, as stunted trees took over from the salt-bush. 
There were signs of recent rain in the odd patch of greenery though the countryside looked like it'd soak up any precipitation when it hit the ground. In the unlikely event of summer rain (we're talking a Mediterranean climate in these parts) I suspected that rainfall would evaporate on impact.
It's hard to tell where you are as you cross a landscape without signs and landmarks so I can't say where I spotted what may well have been an approaching shower.