Back in the car, we headed past Eyre Creek (closed, as expected) towards O'Leary Walker, only to find it closed for renovations, which I guess have to be done some time. 
So we moved on to Mintaro Cellars (closed, racing suspected) before deciding we might as well head back to base to catch the race.
As it turned out, we should have checked the starting time and turned on the TV in time for the end of the presentations. 
At least it gave me some time to work on the trip diary before a stroll along a section of the Riesling Trail. That took us past the former site of the District (later the Auburn) Hotel where the noted Australian poet Clarence Michael James Stanislaus Dennis, better known as C. J. Dennis was born.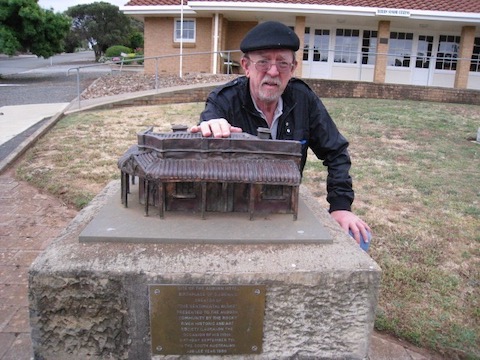 Today the Auburn Senior Citizens Club occupies the site, but  beside the Great North Road a model of the original building commemorates the site where retired sea captain James Dennis held the liquor licence between 1865 and 1877.
His son goes down in Australian literary history as the man who gave us Songs of a Sentimental Bloke and The Glugs of Gosh.
Back at the accommodation, it was time for a sauna for Madam and a light supper washed down with the complimentary bottle of Annie's Lane Riesling that had been waiting for us when we arrived.