Sunday morning found us setting out on a morning constitutional a little later than planned, thanks to a good night's sleep. 
We spent a pleasant couple of hours wandering in and around North Terrace, Adelaide Oval and the Botanical Gardens before ending up in the Rundle Mall Markets where we met up with some of Madam's Adelaide-resident Japanese acquaintances.
While we were there, Madam found the Thai fisherman's pants she'd been looking for.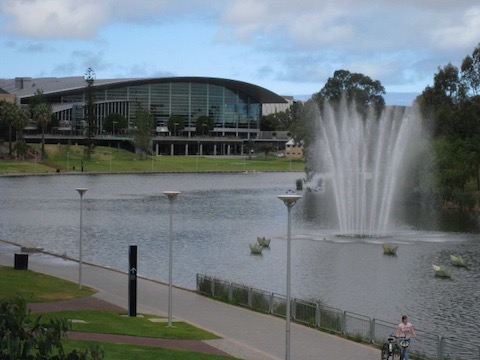 Once seated in Scoozi; she had the opportunity to catch up with old friends while Hughesy took a long look at the wine by the glass list.
That meant lunch turned out to be a lengthy indulgence involving a variety of dishes,. 
While the Japanese conversation was intelligible, the wines were speaking a language I comprehended. 
Eden Valley Riesling ($6.50), Rockford Alicante Bouchet ($7) and Coriole McLaren Vale Sangiovese ($6.50) kept me amused while I sat and ran through the next round of journal entries in my mind.