Back in the car, we made our way back to and through Tanunda on the way to my other must visit winery, Rockford Wines in Krondorf Road.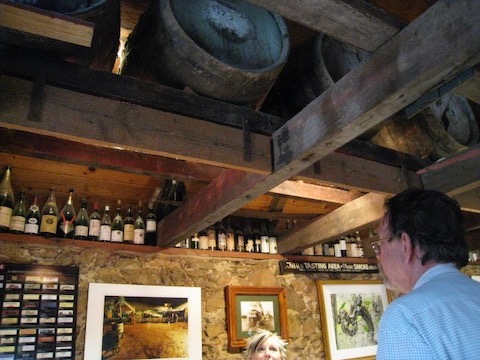 Arriving at the stonewalled compound Madam decided she liked the look of the place, an impression reinforced as we walked into the tasting room, which had the look and feel of an ancient cellar rather than some modern architect's self-indulgent showcase.
Which is the way I like it. 
These places are supposed to be all about the wine. Multimillion dollar winery complexes are all very well, but you can't help suspecting a showy exterior may be an attempt to distract you from the wine.
And the wines were stunning.
2006 Hand Picked Eden Valley Riesling ($19) was excellent. Loads of flavour, lovely finish, a match for anything we'd tried over the previous couple of days. 
Even better was the 2004 Local Growers Semillon, an aged style that, in the words of the cellar door tasting notes invites itself to lunch. At $18, I suspect I'll be inviting some into the wine rack.