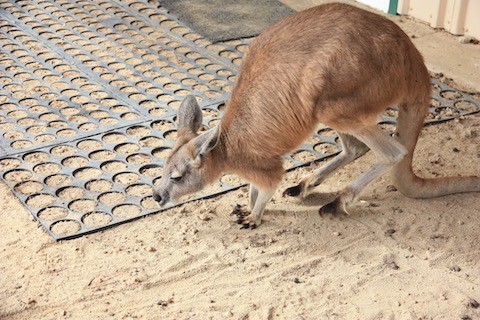 Alan emerged and invited us closer. Madam was able to pat the euro, which, though effectively wild, was used to humans.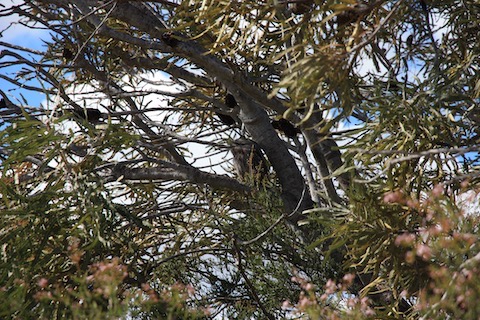 Like subjects of earlier meditations, she went about her business unconcerned by their activities.
That led into a discussion about matters relating to the Park, wildlife conservation and wildflowers.
 That, in turn, delivered the news that five kilometres north of the park just before a Don't Drive Tired sign, a turnoff onto a dirt road would lead us to an area where there were abundant orchids. 
That's the way you find these things — word of mouth, and the odd distinguishing landmark. 
A couple of days later, we heard about a display of orchids in the back-blocks that could be identified by the presence of a blue sock.
With that conversation over, we checked out, emerging from the store to find Lorraine had appeared, and thanks to expert guidance we were able to spot the tawny frogmouth that had been one of the subjects of discussion the night before. 
This was the (almost perfectly camouflaged) female. 
It seemed the male was sitting on a nest somewhere within a hundred metres of where we stood, though the best efforts of the Tinkers and assorted wildlife rangers had failed to locate the nest. 
Looking at the female, hidden away in the branches, I must say I wasn't surprised.
Once we were back in the car, the short drive to the Don't Drive Tired sign delivered us to a landscape that looked, on the surface, totally unpromising.