Standing around at the end of Week Six, one of the other Volunteers mentioned that he had some more pictures I could add to the Gallery if I felt so inclined.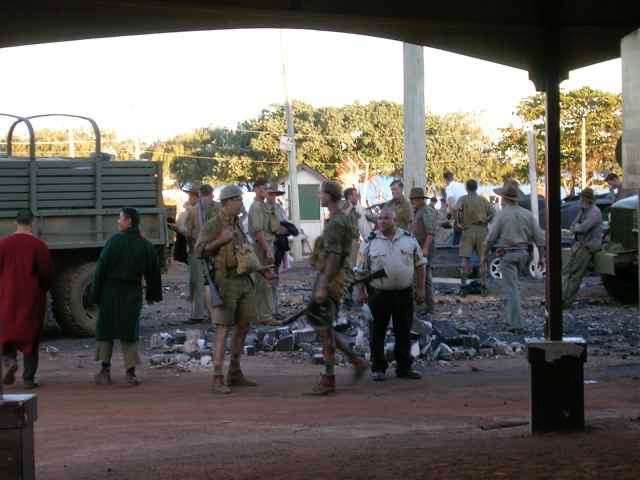 Sure, I replied. E-mail 'em to me and I'll throw some in there with Warbo's stuff...
Can't do that, was the reply. Too big...
And when Blue arrived on the doorstep Saturday morning, USB chip in hand, I found out he was right. We added over five hundred images to the little library I'd managed to accumulate. That's five hundred items with obscure titles like "movieset270407 035.jpg" that need to be identified, sorted and figured out what to do with...
Talking to the Resident Media Tart and the Ace Star Spotter on Wednesday afternoon I found that they'd acquired similar quantities of digital data. Fiddling around with that little lot should keep them busy for a while, and heaven only knows what'd happen if they got to the I'll send you mine if you send me yours stage...
They aren't, of course, the only ones. Resident Media Tart pointed out one guy snapping away madly with the comment he's got twice as many as me... so if people were going to start collecting and collating they could be at it for years....
For my part, if I'm short of something to do, I could probably keep on writing these entries for the next couple of weeks while the set is dismantled and the cleanup gets under way . There are, however, other fish to fry so, unless there's something totally exceptional that goes down over the next fortnight this will be the last episode in this series, though there will be other entries about all the other interests indicated at the top of the page as time goes by....
The process of clearing the set away away probably started well before they'd finished shooting. On Monday the display boards that showed assorted visualisations of what the set would look like were packed up and despatched since there was a truck leaving for Darwin in about an hour and there's no way that it's load would have comprised three boards of artwork....
Lack of Volunteer commitments prompted 'Er Indoors to suggest a road trip to Townsville on Thursday and, on the way back a Winnebago or similar vehicle emerged from the gathering dusk headed northwards. Whether it actually WAS Nicole or Hugh's trailer, of course, I'll never know. However, judging by it's size it could well have been...
From that I guessed that the "Crew area" around the Bowen Band Hall would probably have been totally dismantled within twenty-four hours of filming being completed. After all, if they were going to start filming in Darwin on Monday, the trailers would need to be on the road ASAP....