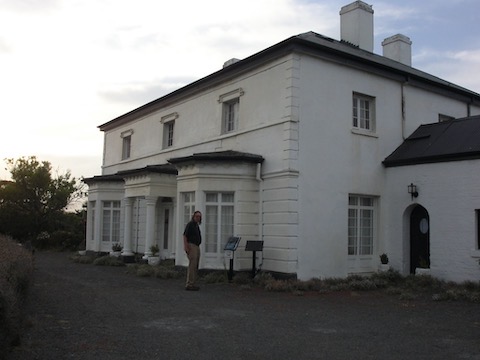 Our accommodation in George Town was The Grove, an elegant stone house built in 1829. 
Once we'd checked in, we discovered the only historical walk option comprised a long wander around sites scattered through what was, in essence, a bit of suburbia.  
If we hadn't experienced the highlights mentioned above in the past twenty-four hours, we might well have been inclined to follow the route laid out in the guidebook. 
We opted for a drive out to Low Head instead.
It was just after five when we pulled into the oldest continuously used pilot station in Australia, in use since 1835. 
As a result, we didn't get a chance to check out the Maritime Museum's collection.
After a walk down to the waterside, it was back into the car and off towards the lighthouse. It was built in 1888, replacing an earlier structure erected by convicts in the 1830s.
From the lighthouse, there's a view across the Bass Strait, but hunger pangs were starting to set in. As a result, we didn't waste much time heading back to The Grove, then hoofing it a block or so to the Pier Hotel for dinner. 
We started with half a dozen Oysters Kilpatrick.
Madam had been generous enough to pass me the oysters from the previous night's seafood platter (I'd had the steak) which were quite superb au naturel. 
While there was nothing wrong with the Kilpatrick, in hindsight, we should have gone for the unadorned option. 
Then, when we returned to the cottage, we continued the process of converting a pair of Pinot-sceptics. 
That process continued once we hit the wine trail the following morning.