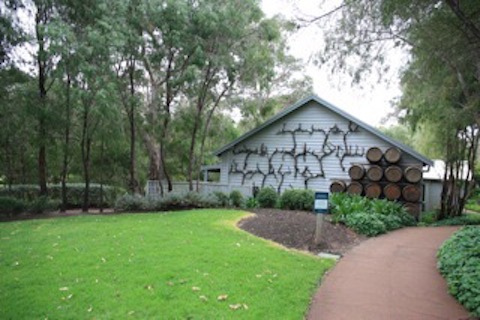 There was also the possibility we might use the restaurant as a fallback if we didn't manage to get into Cullen on Friday. So I guess Brookland Valley was always going to be rated as a must-visit. 
The restaurant menu didn't seem to be available on the web, so if we were going to be checking that side of things out, we might as well do the tasting bit.
Like many operations, the setting for the cellar door is spectacular. 
But the restaurant isn't open on a Wednesday. That may have accounted for the fact that when we arrived there wasn't anybody there but us chickens.
As I worked through the Verse 1 lines ($18/bottle), everything was a solid 4/5, with the Rose as a definite summer possibility ($14.40 a bottle with the discount for bulk buying). 
The Estate Range involved a jump in price, kicking in at $30 with the 2007 Sauvignon Blanc (4/5), which didn't grab me, but the 2006 Semillon (4.4/5), very impressive at $38 and 2009 Chardonnay (4.5/5 $40, 97 points from Mr Halliday)outstanding. 
I didn't mind the 2008 Cabernet Sauvignon Merlot (4.5/5 $45), either.  
The 2003 Reserve Cabernet Sauvignon (5/5 $70) was an impressive long finishing style I'd be happy to wrap the tonsils around on a more regular basis if I could afford to do so.