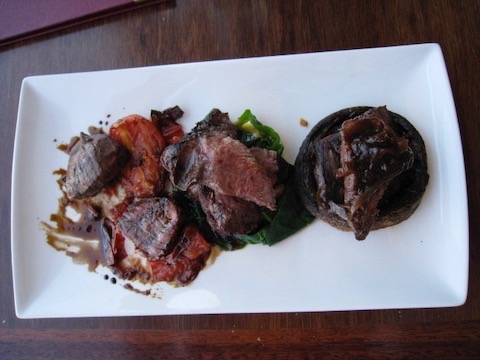 Having tasted close to the entire range, the prospect of a break over lunch had definite appeal, so we headed upstairs to Salt 'n' Vines. 
My Trio of Game Meats and Madam's Smoked Atlantic Salmon would have gone down nicely with a glass of something other than water, but She was driving, and I was temporarily tasted out.
Which was an important consideration. 
I was particularly looking forward to our next stops in the Polish Hill River sub-region.
With lunch out of the way (and exceptionally delish it was), the plan was to backtrack to Wild Saffron, pick up something for dinner for the next two nights followed by a flying visit to base camp to put the tucker in the fridge before setting out to taste some more.
When we arrived at Wild Saffron, the lasagne wasn't available until after four and would feed four (which was probably two too many), so we opted for a couple of Thai beef salads from the fridge.