The journey to the relevant section of the  showroom produced a sighting of Grappa, which I felt was probably worth a try as well. As a result I departed with three bottles....
My pre-visit research had thrown up Boireann, Whiskey Gully and Symphony Hill as destinations in the wine department, and i would have been happy to keep it at that, but Granty suggested a final stop at Heritage Wines, which turned out to be a very interesting destination indeed.
As we pulled in to the car park I had vague memories of visiting a 'Heritage Wines', though I wasn't sure whether it had been the Stanthorpe or Mount Tambourine version of the operation. The exterior of the building also seemed vaguely familiar, but once we stepped inside I knew we were on unfamiliar territory.
It's pretty true to say that you're not going to encounter two cellar doors that are exactly the same, but I doubt that there are too many that are furnished to the same degree of antique opulence as Heritage Wines of Stanthorpe.
They take their 'heritage' stuff pretty seriously at Heritage wines. A bit of research reveals that the Mount Tambourine operation is housed in an old church relocated from the Gold Coast, and while the Stanthorpe branch is housed in a packing shed from the 1940s, it's a packing shed that has been transformed into a reasonable approximation of an olde worlde gentlemen's club complete with pianola.
There are a couple of dining tables, one of which was once the property of the Italian Consulate in Brisbane and another presumably hosted cabinet meetings in Parliament House. Granty informed me while there's no sign of the buttons that summoned the ministerial underlings on the top of the table the wires that conveyed the message are still visible underneath.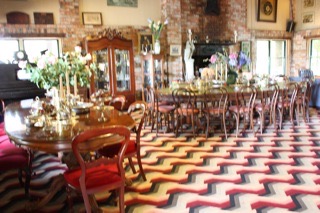 My 2009 Halliday has no listing for Heritage Wines, so it might come as a surprise to find the 2007 Chardonnay was rated as Wine of the Year by Winestate magazine while the website lists an impressive listing of awards from the wine show circuit. Understandably, the award-winning Chardonnay wasn't available for tasting, but its younger brother was, and proved to be an attractive style. While the whites were good, I was more taken by the reds. There's a Club Red blend of Shiraz and Muscat made to be served chilled that was interesting at $15.50 along with the $16.50 Rabbit Fence Shiraz Cabernet blend named for the rabbit-proof fence that passes through the vineyard.