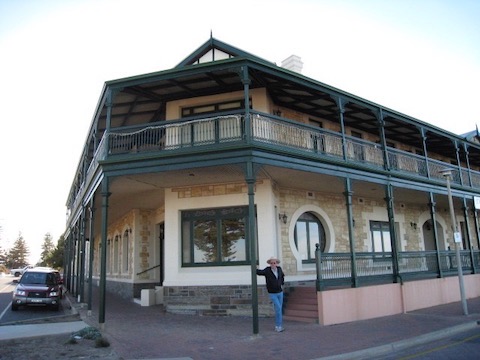 We'd already decided that the day's activities would kick off with a stroll around Henley Beach since our post-nightfall arrival had precluded sightseeing. 
Down the road and just around the corner we passed the former headquarters of the Australian Cricket Academy before heading along the jetty for a look back down the coast towards Glenelg. 
We headed back to base through the restaurant quarter, where Madam spotted Stella, where she'd hoped to dine the previous night. 
Changes to flight schedules between the time we booked in April and actual departure combined with Monday evening to put an end to that option. 
I suppose we could have looked more carefully, but I didn't recall lights the night before. Madam had forgotten the details of the name of the place (other than it started with S).
But there's always next time.
And there almost certainly will be a next time. 
There's plenty of South Oz left for Hughesy to explore.