Anyone minded to quibble is reminded the track running along the former rail line from Auburn to Clare is the Riesling Trail rather than the Shiraz, Semillon Sauvignon Blanc or anything else Trail.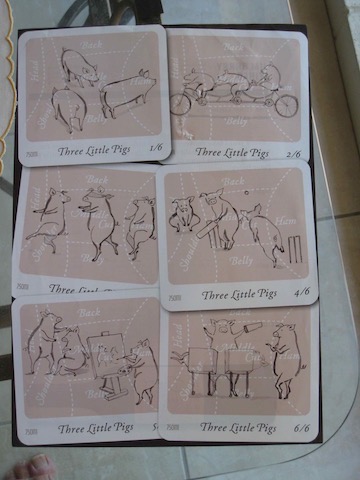 Slightly upmarket, 2007 Lodge Hill ($18) showed the benefit of bottle age and was quite excellent. 
The first knockout punch of the day came with the 2007 Florita ($40) a stellar wine made from free run juice (about 40% of the available volume) that was 100% Riesling without any trace of skin, stem or stalk. Quite simply, a fantastic wine. 
2008 Silly Mid On Sauvignon Blanc Semillon was always going to pale in comparison.
From there, we moved on to Lavender Hill late picked styles, the 2007 Riesling (quite beautiful) and the 2006 Riesling Semillon, which reminded us of the Pfeiffer's Late Picked Muscadelle and was on special at $30 the 375 mL half dozen. 
We broke the we're not buying anything to carry home and invested in a six pack.
We started on the reds with 2004 Three Little Pigs Shiraz Cabernet Malbec ($18), nicely peppery with charming label artwork. The 4/6 label features a pig bowling what appears to be a perfectly flighted leg break!