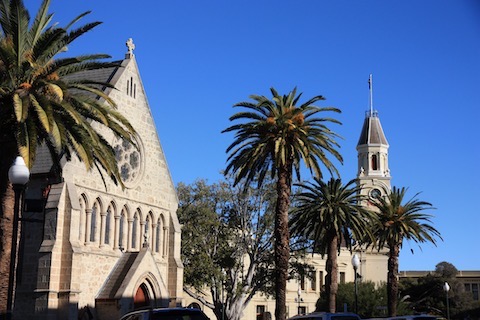 Having decided that was a non-goer, we were on our way to the bus stop when the Fremantle C.A.T. whizzed past. 
We were too tired to make a sprint to catch it when it pulled up about seventy metres away. 
There'd be another one in ten or fifteen minutes. 
When it arrived, we did a full circuit, disembarking downtown where Madam had spotted candidates for camera action.
After that we were off back to the station, landing back in downtown Perth in the middle of the five o'clock rush. 
There were two tasks to be taken care of before I turned my thoughts to dinner. 
The first (locating a place where we could leave the luggage on the last day) was relatively straight forward and took no more than two minutes. 
We needed bottled water and emergency supplies for the car leg of the trip, and tiredness and muddled thinking nearly brought us unstuck.